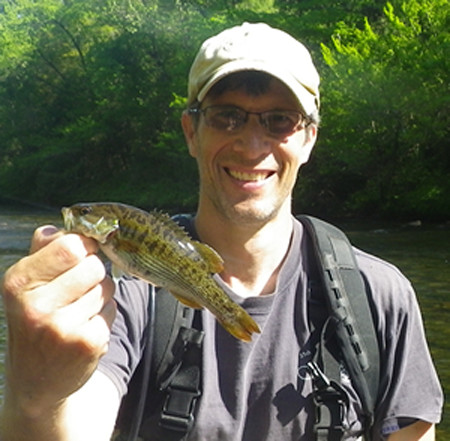 Dr. Gregory Moyer
Assistant Professor
Biology
Email
Office Address
159 (in Room 161) Grant Science
Mansfield University Campus
Curriculum Vitae
Educational Background
Postdoctoral Research. Oregon State University. Advisor: Michael Banks
Postdoctoral Research. University of New Mexico. Advisor: Thomas Turner
Ph.D. Zoology, Southern Illinois University at Carbondale, 2002.
Dissertation Title: Molecular systematics of the thorny catfishes (Siluriformes, Doradidae). Advisors: Drs. Carey Krajewsksi and Brooks M. Burr.
M.S. Zoology, Southern Illinois University at Carbondale, 1998.
Thesis Title: A survey of genetic variation of the genus Perca (Teleostei: Percidae). Advisors: Drs. Neil Billington and Brooks M. Burr.
B.S. Fisheries Biology, Mansfield University, 1995. Advisor: Dr. Richard Soderberg.
About Me
Over the past 20 years, I have accrued a wide array of experiences in the fields of fisheries, aquaculture, and aquatic sciences; thus, applying this working knowledge to teach courses and mentor students in these areas is exciting. I have worked with approximately 100 aquatic species (often utilizing molecular, snorkel, seine, backpack and boat electrofishing detection methods) spanning three continents, have been engaged in at least 45 interdisciplinary problems related to fisheries management, ecology, conservation biology and population genetics, and am or have been involved with at least eight intra-regional, six inter-regional, and three inter-agency groups (including a Department of Interior Gulf Coast Recovery Science Team) working to resolve within and among regional problems associated with fisheries resources, culture and propagation, and inter-jurisdictional species management. Through these working groups I have developed connections with a variety of fisheries professionals across the United States and Canada including federal, state, and non-governmental hatchery managers (e.g., the federal fish hatchery in Lamar and the USGS facility in Wellsboro, PA), federal and state fisheries biologists, non-governmental organizations (e.g., Tennessee Aquarium, North Carolina, South Carolina and Mississippi museums of natural sciences), and university professors (e.g., Wisconsin Stevens-Point, Auburn, New Mexico, Oregon State, Tennessee Tech, Southern Illinois, Georgia),– all of which can be explored for potential summer internship or post-graduation job placement.
Expertise
Fisheries Science
Conservation of Fishes
Aquaculture
Statistics
Population Genetics
Limnology