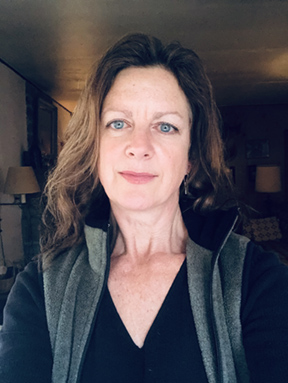 Michelle Lockwood
Associate Professor, Graphic Design
Art
Email
Office Address
115 Allen Hall
Mansfield University Campus
Educational Background
M.F.A. - I.A. Goddard College
Plainfield, VT
B.F.A. School of Art and Design NYSCC at Alfred University
Alfred, NY

About Me
Michelle Lockwood received her BFA in 1989 from the School of Art and Design at Alfred University, and her MFA in 2005 from Goddard College. She has worked as a Communications Designer for Harp and Company, Corning Incorporated, and Phinney Rankin, and was owner and principal designer of MLDesign, a visual communications business in Rochester, and Naples, New York, from 1995-2009 when she relocated to Pennsylvania.
Michelle has worked as an educator for over 20 years. She taught as an Adjunct Instructor of Design at Rochester Institute of Technology, served as Assistant and Associate Professor of Design at the School of Art and Design at Alfred University, from 2000-2008, and is currently serving as Associate Professor and Program Director of Graphic Design at Mansfield University, where she has been teaching since August of 2008. Within this current position, Michelle also served as Chairperson for the Department of Art from 2012-2020.
Michelle is a long-time member of the American Institute of Graphic Arts, served on the AIGA Upstate NY Board of Directors, initiated the development of the Alfred University AIGA Student Group, and currently serves as Co-Advisor for the Mansfield University Art and Design Guild – a student-run organization.
Michelle's professional work spans a broad range, including annual reports; identity systems and components; sales, technical, and communications collateral; music CDs; large-scale exhibition graphics; signage and wayfinding systems.
She has designed projects for American Images, Corning Incorporated, The Corning Museum of Glass, Eastman Kodak Company, Hadassah, Herbert F. Johnson Museum, Patient Infosystems, Rochester Museum & Science Center, The School of Art and Design – NYSCC at Alfred University, Seneca Park Zoo, and Xerox Corporation, among others. Her personal artwork involves the use of photography, printmaking, typography, and installation — exploring issues of identity, social history, objects, and memory. Most recently, Michelle has been incorporating the technology of laser engraving and laser cutting into her personal work.
Michelle's current obsessions revolve around her life in the country raising a crew of animals, giving energy and creative support to her students, and carving out a making-space of her own. StableVision Studios, LLC is located in a newly renovated barn, alongside her furry and feathered friends.
Partnerships and Affiliations
American Institute of Graphic Arts (AIGA)
Creative, Community, Professional and Scholarly Activities
StableVision Studios, LLC
Designer and Owner
Creative design consultation, products, activities, and production services
6572 Route 287
Wellsboro, PA 16901
Expertise
Graphic Design
Typography
Branding
Print Design
Art
Office Hours
FALL 2022
I am on Sabbatical this semester and will not be in my office. Please direct all questions to our department secretary, Jocelyn Brion, at 570-662-4500 or jbrion@mansfield.edu
Thank you,
Michelle Lockwood